ALEXANDAR SUITES

Budva, Budva Riviera
€2030 - €4130 per week
Four exclusive luxury apartment suites in Budva, including one penthouse. Each has two bedrooms and two en-suite bathrooms. Sea views, pool, jacuzzi, sauna, gym, spa and wine bar. WiFi.
Bedrooms : 2
Sleeps : 4
These modern luxury suites are located close to the Old Town of Budva, one of the oldest settlements on the Adriatic coast. In total there are four luxury suites including the penthouse suite. Alexandar Suites are surrounded by cultural monuments, lively cafes, museums, art galleries, beautiful beaches and only a few minutes walk from the Old Town.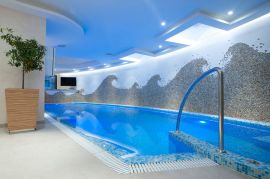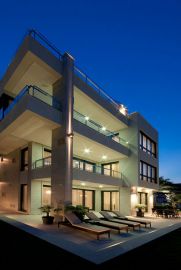 ACCOMMODATION
Alexandar Suites feature four luxury suites sleeping 4-6 people in each. The styling of the suites combines authentic, traditional features, such as magnificent wooden parquet floors and stone fireplaces, with modern amenities. Each suite has a large lounge area and dining area, kitchen, a terrace overlooking the sea and the Old town and two en-suite bedrooms.
The contemporary design transcends from spa to suite. They are spacious, full of light and elegantly furnished. The suites have an open plan living dining area. All of the apartments have individual air conditioning units, flat screen satellite TV, DVD player, CD player, rapid wireless internet access and a mini bar. The sleek modern interiors of each apartment have been specially designed to provide a peaceful and relaxing environment. Each apartment has a fine marble fireplace.
All suites have stylish fully equipped modern kitchens with oven, stove, stove hood, fridge, freezer, dishwasher, microwave, toaster and kettle. Additional facilities include individually controlled air-conditioning units, mini-bar with complimentary soft drinks, telephone and safe.
The bedrooms are full of relaxing features, artwork and good quality bed linen to give the most peaceful stays. The master bedroom of each suite has an emperor size bed (200cm by 200cm).
There are two en-suite bathrooms in each of the suites including a large Jacuzzi bath and shower with all the comforts. Plenty of towels are provided.
OUTSIDE
For extra pampering you can head downstairs to the luxury spa perfect for relaxing and unwinding; with a pool, Jacuzzi, sauna, fitness room and snow showers. The pool area has been designed with relaxation in mind, with serene colours used in the light and airy space. Overlooking the pool is a state of the art Jacuzzi. The pool area has incredible views to the outside surroundings of Budva. The views can also be enjoyed from the spa terrace, where you can enjoy cold beverages and herbal tea.
Additionally, there is a beautiful roof terrace and a charming wine bar. Just a short stroll away is a beautiful beach which has been listed as one of the most beautiful beaches in Montenegro.
ADDITIONAL INFORMATION
Children under 12 are welcome at the pool from 10am-2pm
Price includes breakfast and welcome drinks
Parking spaces

VILLA LOCATION
---
FLIGHTS AND TRAVEL OPTIONS TO BUDVA
Montenegro has international airports at Podgorica and Tivat (located near the Bay of Kotor). Dubrovnik Airport in Croatia is only 15 minutes drive from the Montenegrin border. Kotor town is 20 minutes drive time from Tivat Airport, one hour drive from Dubrovnik Airport and 65 minutes from Podgorica. Journey time from Podgorica to Budva is 45 minutes and to Ulinj 1 hour 15 minutes.
The Airports of Montenegro website provides information on both airports and the flights to them: www.montenegroairports.com
Montenegro Airlines, JAT and Adria Airlines are the principal carriers flying scheduled flights into Montenegro. These include flights from London, Frankfurt, Munich, Vienna, Moscow, Paris and Copenhagen.
See the airline websites for details:
Flight information to Dubrovnik is available on the Dubrovnik airport website: www.airport-dubrovnik.hr
Ferry Services:
There are ferry services from Ancona and Bari in Italy to the Montenegrin port of Bar. See Montenegro Lines website for details: www.montenegrolines.net

PRICES & AVAILABILITY
All prices are quoted per suite per week for 4 persons.
Tourist tax is included.
Minimum stay of 7 nights between 1 July and 31 August
Earliest check-in time is 2.00pm
Latest check-out time is 12 noon
---
Alexandar Suites - Penthouse Suite
| Period From | Period To | Weekly Price |
| --- | --- | --- |
| 4 Jan 2020 | 12 Jun 2020 | €2730 |
| 13 Jun 2020 | 19 Jun 2020 | €3530 |
| 20 Jun 2020 | 11 Sep 2020 | €4130 |
| 12 Sep 2020 | 18 Sep 2020 | €3530 |
| 19 Sep 2020 | 25 Dec 2020 | €2730 |
---
Alexandar Suites - Presidential Suite
| Period From | Period To | Weekly Price |
| --- | --- | --- |
| 4 Jan 2020 | 12 Jun 2020 | €2030 |
| 13 Jun 2020 | 19 Jun 2020 | €2830 |
| 20 Jun 2020 | 11 Sep 2020 | €3430 |
| 12 Sep 2020 | 18 Sep 2020 | €2830 |
| 19 Sep 2020 | 25 Dec 2020 | €2030 |

TO BOOK
Please email or contact us to make a provisional reservation. Then download and complete the booking form.