Bay of Kotor region
- Local and Tourist Information
Kotor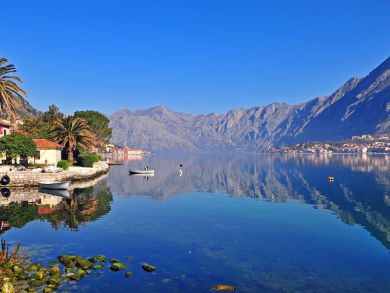 The Bay of Kotor (Boka Kotorska) offers spectacular scenery and many lovely spots for swimming, mainly small pebble beaches or jetties and man made swimming platforms rather then the large sandy beaches further south. The bay, which has over 100 kilometres of shore line, is entered through a narrow channel and is almost completely separated from the open sea. The scenery is dramatic. The bay is surrounded by mountain ranges that fall steeply down to the water's edge. There are many attractive towns and villages on the shores of the bay. At the furthest extent of the bay lies the old town of Kotor. This fabulous and ancient town is a UNESCO World Heritage site. Of particular architectural interest are the Catherdral of St Tryphon, originating from the 11th Century, and the orthodox church of St Nicolas. Walking the the town's ancient fortifications which rise 1350 steps up almost vertical cliffs directly above the city, is physically demanding but rewarding. The view of Kotor and the bay from St John's fortress is spectacular. Cruise ships visit Kotor and the deep water of the bay enables them to tie up virtually at the gates of the old town.
From Kotor you can take boat trips to the two small islands of Sveti Djordje and Gospa od Skrpjela (Our Lady of the Rocks). Kotor offers a excellent range of restaurants as well as bars and clubs for nightlife. In July Kotor hosts a summer music festival.
Of the many smaller towns and villages around the bay the most notable is Perast. This small water front town is rich in history and Venetian influence and absolutely crowded with stunning architcture. The town contains 16 churches and 17 palazzos. Close off-shore are the two tiny and picturesque islands, Sveti Djordje and Gospa od Skrpjela (Our Lady of the Rocks), where you can visit the church and museum.
Down the main coastline from the Bay of Kotor the popular resort of Budva has an attractive old town and offers wonderful sandy beaches. The old town lies on a small peninsula and represents a treasure chest of the cultural heritage. It is intersected with numerous streets and squares, with many important churches. During July and August Budva becomes a centre for theatre and foreign and local plays are staged. See Budva region page for more information.
The mountainous interior of Montenegro offers winter sports and many oppotunity for exploring the rugged landscape. National park "Biogradska Gora", which contains one of only three preserved wild forests in Europe. Biogradsko lake is situated at the altitude of 1094 metres and it has extensive footpaths all around. In the north of Montenegro the town of Zabjak at an altitude of 1456 metres, in the very centre of the giant Durmitor mountain range is a popular destination for winter tourism. In the same region the Tara river canyon is the deepest canyon in Europe and provides opportunities for rafting.