Ulcinj region
- Local and Tourist Information
Ulcinj town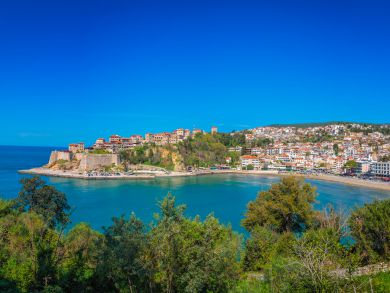 Ulcinj is one of the oldest towns on the Montenegrin coast, with evidence of human settlements even in 500 BC. It is a walled town and even now it looks like an old fortress, and the influence of Greek, Roman and even African cultures is still there. The magnificent blue Adriatic sea shimmers below the vertical cliffs on which Ulcinj is built. Whilst in the past centuries this was a centre of fierce piracy, now the narrow cobbled streets of Ulcinj invite you to visit friendly restaurants, cafes, bars and shops and enjoy some of the most wonderful sandy beaches in Europe. The weather is sunny and warm, and the sea lovely to swim in. Something special about Ulcinj is that it is a town where east and west meet and it combines the sophistication of the Adriatic stone buildings with the low dwellings and colours and aromas of the Orient.
Ulcinj's beaches are very famous, but the whole area is still relatively undiscovered. The most famous is Great Beach which is a 12 kilometres long stretch of sand, slightly outside the town. On some parts of the beach you can rent sunbeds and umbrellas, or bring your own. Ulcinj's beaches are popular with kite surfers. Just between the Ulcinj town walls and a promenade of seafront shops and restaurants is the town beach, Little Beach, also sandy and very popular. Many more beaches abound, and another beach worth visiting is Ada Bojana, on a small island in the estuary of River Bojana to the Adriatic. It is a peaceful and atmospheric location. This beach also has a naturist campsite. Šasko lake and Ulcinj's salt pond are popular among birdwatchers, as they are major migration stop-off spots for over 200 bird species.
Ulcinj is a popular tourist destination in summer. In January 2010, the New York Times ranked the south coast region of Montenegro as one of "The Top 31 Places to Go in 2010".