HERCEG NOVI REGION - LOCAL AND TOURIST INFORMATION
Herceg Novi is one of the most pleasant and welcoming cities in Montenegro and warrants several days visit. The city is a particularly good alternative to Dubrovnik in Croatia, which is generally more crowded during the summer.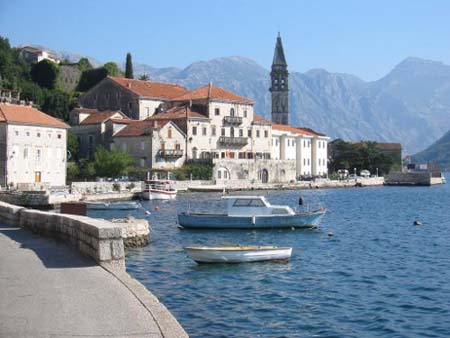 Herceg Novi
During the last few years Herceg Novi has become a very popular destination for tourists but, in spite of this tourist boom, the city has managed to keep the traditional slow and welcoming Montenegrin lifestyle.
If travelling to Herceg Novi from Dubrovnik airport (Cilipi), this is a pleasant journey and takes about 40 minutes, including border crossings.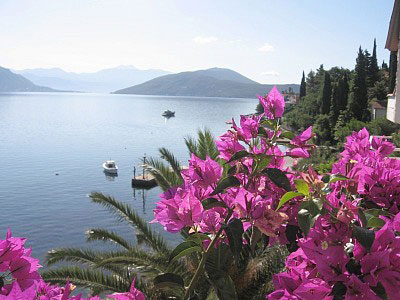 City of flowers
CULTURE
The fascinating Herceg Novi Old Town is on a fairly steep hill that leads all the way down to the sea. An enjoyable afternoon can be spent wandering up and down the small passages and exploring the various plazas and fortresses. The Orthodox and Catholic churches are also well worth visiting.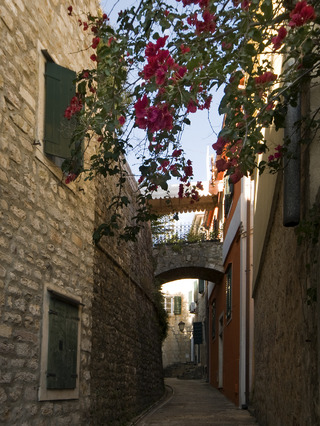 Secluded passages
The Kanli Kula fortress (for which there is a small entrance fee) dominates the Old Town. It doubles as an open-air theatre and enjoys splendid views of the town and the Kotor Bay.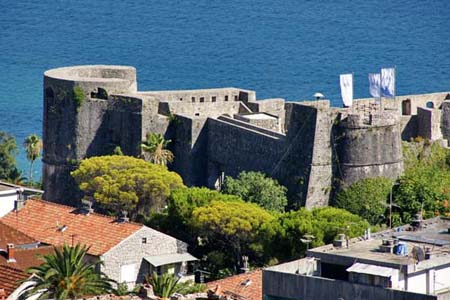 Kanli Kula Fortress
The Spanjola fortress located higher up the mountain (170m above sea level) dates back to 16th century. A small street links the two fortresses. Entrance is free and you can freely climb the walls.
The Savina monastery, approximately 2 km east from the city centre, has three beautiful Orthodox churches and splendid views of the bay.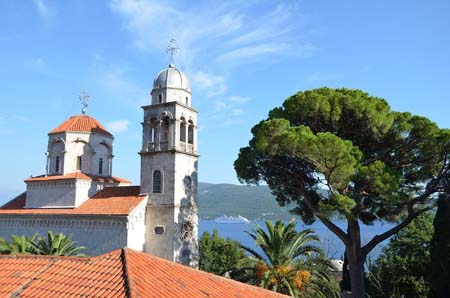 Savina Monastery
SPORT AND HEALTH
The city has some great pebble and sandy beaches. There is a path that leads along the main beach for about 3 miles. Many small beaches have loungers, small boats and other gear for hire.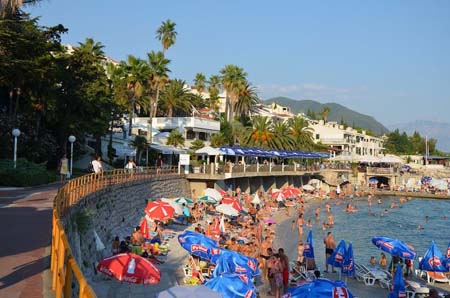 Beach
A little way along the promenade is the small spa town of Igalo, which is famous for the healing properties of its mud. A health and hospital centre complex offers mud therapy combined with other treatments, but you can pick up what to do by observing the locals.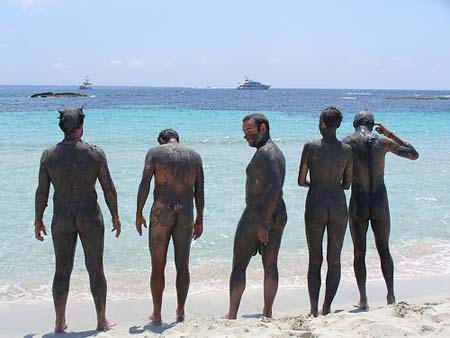 Fun in the mud
Going up towards the hills you will find wonderful ancient stone paths that lead to some very rural communities. Some of these paths continue for three to four miles.
If you enjoy mountaineering, get in touch with Herceg Novi based mountaineering society "Subra". Their website provides basic maps of some of the hiking routes in the vicinity of Herceg Novi, and information about local mountain huts.
SHOPPING
There are some very reasonably priced clothes shops in Igalo, and boutiques in the Old Town which specialise in Italian fashion. Arts and crafts are available in Kotor and Budva. Go to the local market just off the main square in the Old Town on Saturday mornings to buy fresh seasonal fruit and vegetables, olive oil, sheep and goat's cheese, dried figs and locally made wine.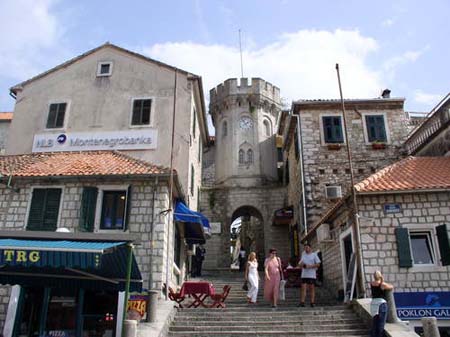 Herceg Novi Clock Tower
CAFES AND RESTAURANTS
Freshly caught seafood, meat dishes and international cuisine are all available in the area. Almost all the cafes serve freshly made pizza. To find the best places, watch where the locals go. Montenegrins are quite discerning when it comes to eating out.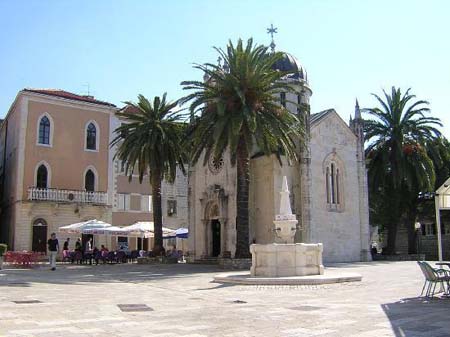 Cafe in the church square
Along the promenade and main square in the Old Town, and almost everywhere else around town, there are numerous small cafes with tables conveniently positioned for the popular local pastime of people-watching! All serve good Italian-style coffee and many also offer a selection of delicious, freshly made cakes and ice creams.
Herceg Novi is hot in summer, and it usually stays warm late into the evenings so cold drinks, especially iced-coffee, are best sellers. The local beer which is made in Niksic is also good.
EXCURSIONS
Half-day or full-day boat excursions along the Kotor bay or to a specific destination (Kotor, Perast, Ostrog monastery) leave from different points on the beach.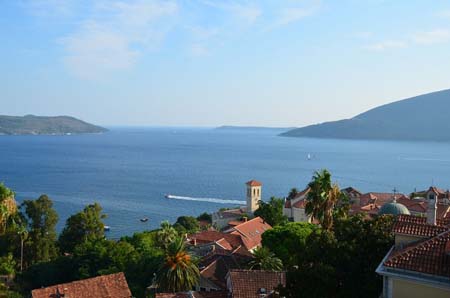 Aerial view of Herceg Novi
Our Villas in Herceg Novi region
Villa Marbelle

An air conditioned, three bedroom, two bathroom seafront villa with a lovely garden and terraces. The villa has a BBQ. The sea is just 5 metres away and the nearest sandy beach is 100 metres away. WiFi. Parking for one car.